Go Green and Save Yourself From Heavy Snow
Winter Can be Fun, But What About Snow Removal?
Winter is coming again, and we all know what comes with it. Snow and lots of it! Sure we can do all of the fun things related to snow like skiing, snowboarding, making snow people, sledding, snowball fights and more! But also we have to be responsible and keep our driveways and sidewalks clean. Sure there are the classic ways of dealing with the white stuff; such as breaking your back shoveling, ruining your driveway and lawn with harsh chemicals and salt, or polluting the air with a snow blower. But what if there were something better, a "green" way to clear the snow and keep you and your loved ones safe? There is! And surprisingly, it's a very old idea; radiant heat.
Radiant heat was used by the Romans, and has been gaining popularity in Europe over the past 50 years as a safe, effective way to heat homes and clear snow. It is only now becoming more mainstream in the United States and Canada. There are two types of radiant heat that are fairly easy to install and are green ways of getting rid of the snow, electric and hydronic. These two systems differ drastically on how they heat, but the end result is the same, melted snow.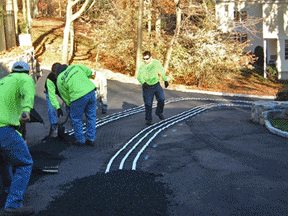 Hydronic radiant heat pumps hot water through pipes laid in concrete to melt the snow; whereas electric radiant heating uses special electrical wire laid under your choice of driveway material to melt the snow. Using either method will still save your back, your driveway, and the environment because there is no heavy lifting involved nor are there salt or harsh chemicals involved.
The best part about using radiant heat for your driveway snow melting is that it is all automatic! When the cables are installed, a special snow and moisture sensor is installed with them. When the snow starts falling, the sensor automatically turns on the system and the cables do the rest. All you need to do is enjoy the warmth inside provided by your radiant heated floors until you need to leave your home and face the weather beyond your driveway.
So you want to use radiant heat for your driveway and possibly the interior of your home but you don't know where to go? There are so many places that you can buy the cable from, and then there is the installation; how much do you need, how will you get support, what if you don't understand something completely? One company will cover all of that and more; Warmzone. Warmzone was founded on the principle that the customer drives the business, so they should take care of them. When you call a radiant heat expert at Warmzone, they will work with you to ensure that you have the right cable and equipment for your installation. They will have a Warmzone designer design and lay out how the system will look and work. Warmzone customer support is phenomenal, so if there are questions during the installation, an expert will walk you through any issues or questions.
So, visit their website at www.warmzone.com or call a sales representative at 888.488.9276 to see what they can do to assist you in creating the perfect radiant heat system for you and your home.
BACK TO ARTICLES HOME